Easy Thanksgiving recipes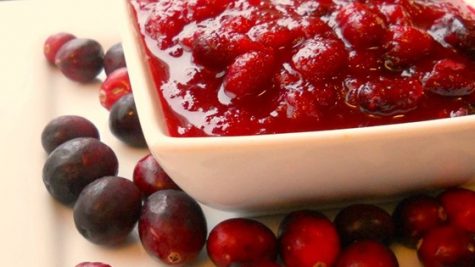 Although not everyone may celebrate Thanksgiving, a feast is always a great idea. Don't stress on how to make a delicious feast if you're not a good cook; Devils' Advocate is here to give you super easy recipes that require no talent in the kitchen.
Creamed Spinach
Courtesy of Food Network
Ingredients:
1 chopped shallot

10 ounces frozen spinach

1 tbsp flour

2 tsp Worcestershire sauce

1 cup chicken broth

½ cup sour cream

Salt

Cayenne pepper

Nutmeg
Directions:
Cook 1 chopped shallot in a large skillet with butter until soft

Add two 10-ounce boxes frozen spinach (thawed and squeezed dry); warm through

Stir in 1 tablespoon flour, 2 teaspoons Worcestershire sauce, 1 cup chicken broth, 1/2 cup sour cream, and salt and cayenne pepper to taste

Cook 5 minutes

Add a pinch of nutmeg
Cranberry Sauce
Courtesy of Allrecipes
Ingredients:
12 ounces cranberries

1 cup white sugar

1 cup orange juice
Directions:
In a medium sized saucepan over medium heat, dissolve the sugar in the orange juice

Stir in the cranberries and cook until the cranberries start to pop (about 10 minutes)

Remove from heat and place sauce in a bowl. Cranberry sauce will thicken as it cools
Cream Corn
Courtesy of Allrecipes
Ingredients:
2 (10 ounce) packages frozen corn kernels, thawed

1 cup heavy cream

1 teaspoon salt

2 tablespoons granulated sugar

1/4 teaspoon freshly ground black pepper

2 tablespoons butter

1 cup whole milk

2 tablespoons all-purpose flour

1/4 cup freshly grated Parmesan cheese
Directions:
In a skillet over medium heat, combine the corn, cream, salt, sugar, pepper and butter.

Whisk together the milk and flour, and stir into the corn mixture.

Cook stirring over medium heat until the mixture is thickened, and corn is cooked through.

Remove from heat, and stir in the Parmesan cheese until melted. Serve hot.
Basic Mashed Potatoes
Courtesy of Allrecipes
Ingredients:
2 pounds baking potatoes, peeled and quartered

2 tablespoons butter

1 cup milk

salt and pepper to taste
Directions:
Bring a pot of salted water to a boil

Add potatoes and cook until tender but still firm, about 15 minutes; drain

In a small saucepan heat butter and milk over low heat until butter is melted

Using a potato masher or electric beater, slowly blend milk mixture into potatoes until smooth and creamy; season with salt and pepper to taste
Gingerbread Cookies
Courtesy of Allrecipes
Ingredients:
1/2 cup butter, softened

1/2 cup brown sugar

2/3 cup molasses

2 eggs

4 cups all-purpose flour, divided

1/2 teaspoon baking soda

1/2 teaspoon salt

1/2 teaspoon ground allspice

1/2 teaspoon ground cloves

1/2 teaspoon ground cinnamon

1/2 teaspoon ground ginger

1 pound confectioners' sugar

1/2 teaspoon cream of tartar

3 egg whites
Directions:
Preheat oven to 350 degrees F (175 degrees C)

In a large bowl, cream together the butter and brown sugar until smooth. Stir in the molasses and eggs. Combine 1 1/2 cups of the flour, baking soda, salt, allspice, cloves, cinnamon, and ginger; beat into the molasses mixture. Gradually stir in the remaining flour by hand to form a stiff dough

Divide dough into 2 pieces. On a lightly floured surface, roll out dough to 1/8 inch thickness. Cut into desired shapes using cookie cutters. Place cookies 1 inch apart onto ungreased cookie sheets

Bake for 8 to 10 minutes in the preheated oven. Allow cookies to cool on baking sheet for 5 minutes before removing to a wire rack to cool completely

In a medium bowl, sift together confectioners' sugar and cream of tartar. Blend in egg whites. Using an electric mixer on high speed, beat for about 5 minutes, or until mixture is thick and stiff. Keep covered with a moist cloth until ready to frost cookies
I personally tried the gingerbread cookies and would recommend it. It was chewy and not too gingery or spicy. Although gingerbread cookies aren't very Thanksgiving-like, it's nice to practice to get ready for Christmas.
Leave a Comment
About the Contributor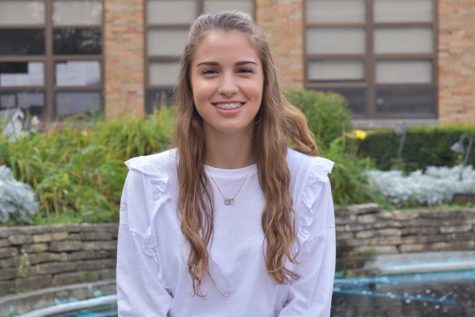 Samia Douedari, Section Editor
Samia Douedari is a senior who enjoys to write whether it's for a class or for fun. Along with being a part of the cross country and track team at Hinsdale...