Boys' lacrosse celebrates win on senior night
On May 12, boys' lacrosse celebrated senior night on Dickinson Field against St. Rita. The team won 7-4, and their record became 14-2.
The game was special for the players because it served as a celebration of 14 graduating seniors and three graduating senior managers, all of whom are moving on to college next year.
The players and managers walked with their parents before the game, and senior Anthony Brescia served as a DJ throughout the game. There was also free ice cream for fans at halftime.
This game was one of the last in the regular season, and the boys are currently looking forward to playoffs.
"This has been the most successful Hinsdale lacrosse season I've been apart of," said Peter Marcus, senior attack. "I'm hoping all of this success can lead [to] something special this post-season."
As a surprise to the players, before the game they received new black jerseys, which the team was very excited about.
"Black jerseys are something that four years ago we did, and the team went on to win conference," said Richard Mares, head coach. "I really wanted to jump in and have the mentality that on senior night you play for the name on the front, not on the back. The guys are really coming out to play pretty hard."
The chemistry and unity of the team has been an essential part of their success. Many of the seniors are sad to leave behind a sport and team that has meant so much to them, and the underclassmen feel the same about saying goodbye.
"I will miss the leadership of the seniors," said Jack Crews, junior attack. "Our team is special because everyone serves an equal role in leading us to success."
The experience of playing a high school sport is unique to any other setting, and different than what the seniors expect in the future. "I really enjoy being with high school students who can range from freshmen to seniors and watching the talent level steadily increase," said Colin Parker, senior midfield.
The seniors on the team are listed below.
Andy Evans- Miami of Ohio University
Brian McCarty- Indiana University
Colin Parker- Marquette University
Jake Simon- Arizona State University
James Usher- University of Denver
Joe Kwasigroch- DePauw University
John Kwasigroch- Indiana University
Lucas Booras- Penn State University
Mark Ferrino- Indiana University
Michael Cunningham- Marquette University
Nico Bucciarelli- University of Arizona
Peter Marcus- University of Georgia
Ross Caputo- Illinois State University
Sam Karthan- University of Utah
Caroline Langan- University of Kansas
Elizabeth Osmundson- Indiana University
Kendal Bernard- Indiana University
Leave a Comment
About the Contributor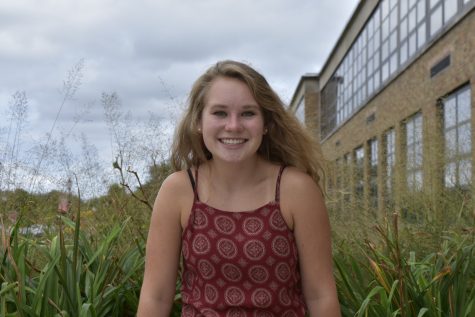 Becca Derezinski, Writer
Senior, Becca Derezinski, is always seen with a smile on her face. Becca is a horse enthusiast, constantly talking about anything horse related. If she...