Varsity girls lacrosse team wins against Lockport Township
On Saturday, April 8, the girls varsity lacrosse team played Lockport Township High School on Dickinson Field at 12 p.m. The girls beat the Porters 23-5 and added to their winning streak now making it four wins in a row. 
Head coach Matt McNiff has been coaching for eight years now, but this is his third year leading the girls' team.
"I coach football as well and these girls resemble the toughness of football players," McNiff said. "They motivate everyone around them. This program is full of inspirational young women who have a serious drive to win it all."
The girls practice Monday through Saturday with games scattered throughout their weeks. 
"We have a 'One game at a time' approach and that is how we are approaching this game tomorrow," McNiff said. "This week we worked on shot placement and ground balls. This is more fundamental but we cannot ignore the little things."
Each girl has their own pregame ritual to get them prepared for the game. 
"Before games I am amped up and ready to play against any team. We made a warmup playlist that fires me and makes us all so hype," said Elisa Mann, senior defender.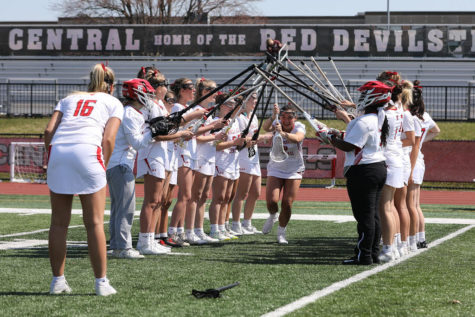 In lacrosse, there are three positions: attack, who scores the goals; defense, who protects the team goal; and midfield, who combines the roles of attack and defense, requiring a great deal of running up and down the field.
The starting lineup was announced before the game started. At attack, Emily Brankin, Reese Napier, Daphne Venetsanopoulos, and Parker Matthews. Midfielders: Ariana Tavoso, Angie Conley, and Logan O'Connor. On defense, Francesca Gick, Elisa Mann, Chloe VandeLune, and Regan Torsberg. Finally, goalie Makenna Schultz, sophomore.
"Definitely keep an eye on our three captains; Ari Tavoso, Reese Napier, and Angie Conley," McNiff said. "All three players are committed to Division 1 schools next year. They lead this team with passion, intelligence, and resilience."
The first half started strong with Conley and Venetsanopoulos as the leading scorers. Schultz had multiple saves at goal and O'Connor kept stealing the draw.
"During games I'm really competitive and aggressive," Mann said. "No mercy."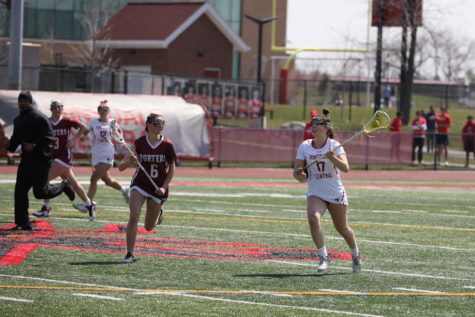 The second half ended and a few girls scored their first goals of the game: Annie Beargie, junior, Regan Kearney, and Peyton Moncrief, sophomores.
The girls have special traditions that keep them motivated and bonded as a team.
"Specifically, one tradition our team celebrates after each practice and each game is an MVP/Hard worker belt," said Angie Conley, senior midfielder. "This is awarded toward the player that excelled and helped the team in the most significant and impactful way. If this is the day before a game they will be the fourth  captain at the next game."
There is still a long road ahead for this varsity team. They are on the road to the state championship again. 
"This season is our redemption tour, and we are going for that ring," Mann said. 
The next girls lacrosse game is away at Oak Park River Forest High School on Tuesday, April 11 at 5:00 p.m.
Leave a Comment
About the Contributors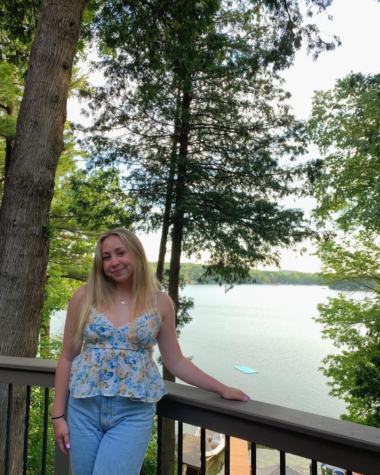 Ellie Ursillo
Ellie Ursillo, senior, is excited to be writing for Devil's Advocate this year. Ellie is a Co-Captain of the Poms team this season and is looking forward...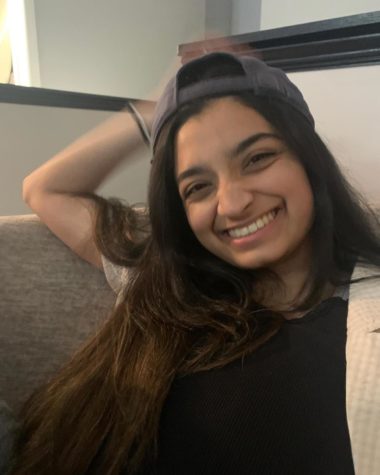 Simrah Qasim, Editor-in-Chief
Simrah Qasim, senior, is excited to be returning to devil's advocate. She loves listening to music, writing, and playing the piano. Along with Devil's...