TV inspired Halloween costume ideas
With Halloween quickly coming up, it's that time of the year again for students to stress out about finding the perfect costume. To make finding an appropriate costume easier, here are five costume ideas for everyone inspired from your favorite movies and TV shows.
Eleven
Halloween embodies many of the scary, sci-fi aspects that are featured in the hit series "Stranger Things". Although the third season has been confirmed, David Harbour (who plays Chief Jim Hopper) said that we won't be seeing the Stranger Things kids until next year. But, to kick it back to the second season, one can dress up as the character Eleven (played by Millie Bobby Brown) when she was going through her iconic edgy phase. All this look requires is all black attire, black eye makeup such as NYX eyeshadow, and hair gel.
Michael Myers
On December 20, 2017, it was announced that Nick Castle would be reprising his role as Michael Myers in this year's remake of "Halloween", which will be released on Friday, Oct. 19. To dress up as Michael Myers, you can order a navy blue jumpsuit off of Amazon, or find something similar to the jumpsuit in your closet. Additionally, white face makeup or face paint can be found at Walgreens and can be used in replacing the mask to make your costume suitable for school or just more wearable in public.
"I'm really excited for this movie to come out and I think dressing up as Michael Myers would be creative and something different," said Naya Kelta, sophomore.
Donna and the Dynamos
For those who prefer going for more fun and bright costumes, dressing up as 'Donna and the Dynamos' from "Mamma Mia! Here We Go Again" is the ideal option, especially because the movie was released this past July. What makes this outfit even better is the fact that you can do it with your friends.
"I think group costumes are a lot more fun than just dressing up as something alone," said Lana Elzein, sophomore.
Online store She In has the most affordable blue flare jeans with ruffles on the bottom to perfect the costume. Finding a denim jacket or vest to complete the look is easy too since they have been in style recently and many students already have one. Macy's also has a variety of denim jackets that would work perfectly for this outfit. Pairing the jeans with a sash or waistband can help make this outfit come to life even more. Last but not least, make sure to bring a microphone to sing all of ABBA's greatest hits.
Lara Jean
Lara Jean's outfits from "To All the Boys I've Loved Before" are easy to recreate and still easily recognizable without being too dramatic or over the top.
Although there are multiple outfits you can recreate, one of my personal favorites is the one pictured above. Just like the clothing pieces used to recreate 'The Dynamos', all the items in this costume can still be worn on a daily basis. You might remember Jean's ex-best friend insulting her boots, but I commend Lara for being able to wear heels at school. H&M has many similar styles of black mid-high heeled shoes. Urban Outfitters has many different high-quality plaid shirts that can be worn to replace Lara's green flannel. Forever 21 is a great place to look for inexpensive maroon knee-high socks.
Riverdale Vixen
Season three of "Riverdale" just recently premiered on Oct. 10. To dress up as a Riverdale Vixen, all you need are four clothing pieces that you probably already have and can wear long after Halloween is over.
Look to brands like Keds to replicate the white shoes Veronica and her teammates are wearing. The yellow baseball tee can be found at Sears for an affordable price. The athletic gold striped knee-high socks and a pair of black shorts can be found at Walmart.
Whether you choose to dress up as a Dynamo or a Riverdale Vixen, just remember to rock your outfit and have a safe and fun Halloween.
Leave a Comment
About the Contributor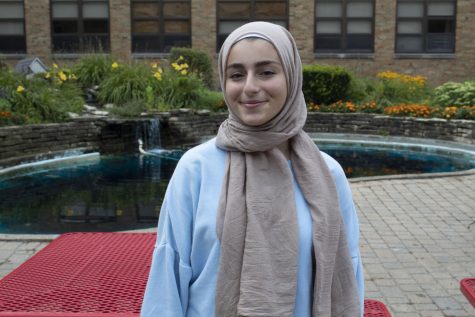 Lana Jawich, Section Editor
Lana Jawich is a senior writer for Devils' Advocate who enjoys painting and playing soccer. When she's not annoying her siblings or spacing out in physics,...