Giving thanks and giving back
Thanksgiving is commonly known as a holiday involving family cooking around a family dinner table with a myriad of foods. Whether or not your family celebrates Thanksgiving the traditional way, there are some essentials when it comes to a good Thanksgiving; turkey, stuffing, and mashed potatoes can make or break the meal. If you have two working parents or are otherwise unable to produce a Thanksgiving meal in your home, we can recommend a few places that can provide everything you need, whether you are eating out or carrying in.
Family is a central aspect of the Thanksgiving holiday. Many people emphasize the importance of togetherness and community during this season.
"What is important to us is that we are really all together and that we all spend time and see each other," said Abbie Gaffigan, junior. "I always help my grandma cook or bake when I get to her house."
Standard Market is a local gem of a grocery store, serving quality, organic and "homemade" foods to the Hinsdale area. The market not only offers the ingredients to make a delicious meal with your family, but provides food that is prepared and ready to serve if you would prefer not to cook. Items such as turkey meatloaf, grilled pork chops, sweet potatoes, and brussels sprouts can be picked up without reservation any day of the week.
Standard Market can be found at 333 E. Ogden Ave., Westmont, Ill., 60559 or at 1508 Aurora Ave., Naperville, Ill., 60540.
If your family plans on hosting a large number of people, then Taste of Home Catering offers services such as servers, bartenders, and rental supplies along with the food and drinks. With a minimum of four-hour service, servers and bartenders charge at a rate of $35 per hour.
Taste of Home Catering can be contacted at (630) 323-7979.
Additionally, while we all think about our own family meal, it is vital that we remember and try to help those for whom a Thanksgiving meal would be an extravagance.
"DuPage County has the second largest food insecure population in the state, and one for every six children faces hunger," said Stan Cook, Director of Hinsdale Community Services.
Hinsdale Community Services is distributing 135 turkeys and dinner to families through the Anne M. Jeans Elementary School in Willowbrook this Thanksgiving.
Anyone interested in food pantry eligibility or volunteer work should contact Stan Cook at [email protected] or visit the Hinsdale Community Services website.
Leave a Comment
About the Contributor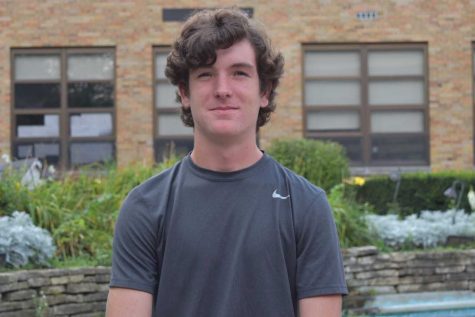 Peter Hughes, Writer
Peter Hughes is a junior who runs cross country and track. If he's not running, it's probably because he's either playing guitar or injured....