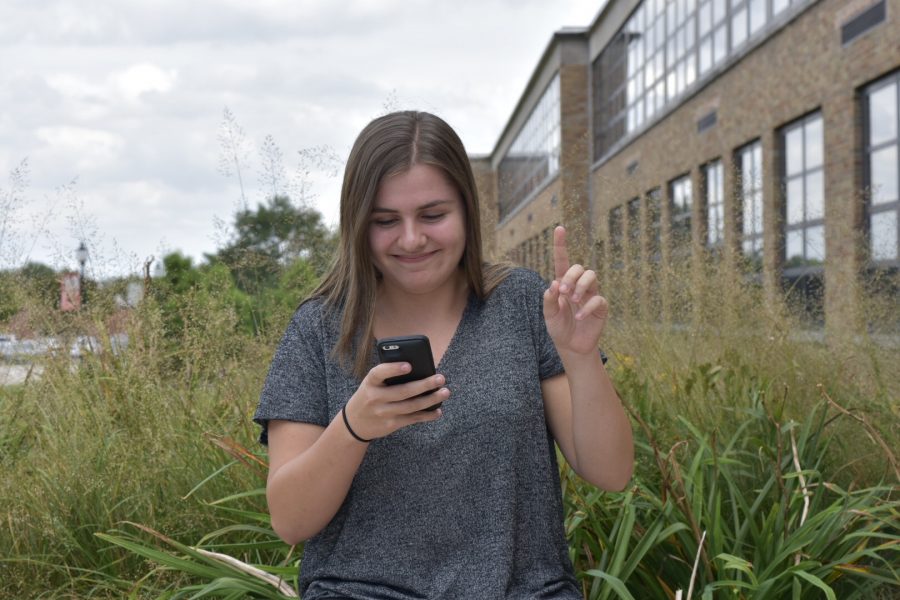 Hannah Anderson is a junior whose second language is Internet. When she's not writing for Devils' Advocate, she can usually be found blasting the
Hamilton
 soundtrack, binge-
watching stand-up comedy on Netflix, stalking strangers' Spotify playlists, or tweeting about memes (RIP Harambe) from the comfort of her bed. She is obsessed with Portillo's chocolate shakes,
Gilmore Girls
, the Green Bay Packers, and Aziz Ansari.
Outside of the internet, she loves traveling to new places, reading about global events, and participating in Microfinance Club. You can contact Hannah at
818043@hinsdale86.org
.
Hannah Anderson, Writer
Apr 18, 2018

Central hosts annual college fair

(Media)

Apr 03, 2018

March staff playlist

(Media)

Mar 20, 2018

Film Club recaps the 90th Academy Awards

(Media)

Mar 01, 2018

February staff playlist

(Media)

Feb 14, 2018

Introducing Devils' Advocate's newest members

(Media)

Jan 31, 2018

January staff playlist

(Media)

Jan 25, 2018

The highs and lows of 2017

(Media)

Dec 21, 2017

December staff playlist

(Media)

Dec 20, 2017

World Languages Department prepares for World Languages Week

(Media)

Nov 27, 2017

November staff playlist

(Media)

Nov 21, 2017

Students volunteer for political campaigns

(Media)

Oct 25, 2017

Class of 2018 college search survey

(Media)

Oct 25, 2017

October staff playlist

(Media)

Oct 16, 2017

Students and faculty excited by prospect of Cubs playoff run

(Media)

Oct 16, 2017

NHS bake sale raises money for Rizzo Foundation

(Media)

Oct 16, 2017

National Merit semifinalists announced

(Media)

Oct 11, 2017

What to know about the buffer zone debate

(Story)

Oct 04, 2017

Girls swim and dive hosts car wash

(Media)

Sep 24, 2017

September Staff Playlist

(Media)

Aug 22, 2017

Entire school observes solar eclipse

(Media)

Apr 28, 2017

Homecoming 2017 changed to a different date

(Story)

Mar 22, 2017

Get on iT: Behind the camera with Jay Campbell

(Story)

Mar 16, 2017

Vault 7: Big Brother could be watching you

(Story)

Mar 07, 2017

Goodbye for 40 days

(Story)

Mar 06, 2017

Students react to NASA's recent discovery of an exoplanet system

(Story)

Feb 21, 2017

Dance Company returns for a new season

(Story)

Feb 15, 2017
Feb 14, 2017

Students respond to Trump's travel ban

(Story)

Feb 03, 2017

Blast from the past: Central graduate returns to teach

(Story)

Jan 25, 2017

Honors Portfolio students experiment with tape for latest project

(Story/Media)

Jan 18, 2017

"La La Land" lends movie musicals a new life

(Story)

Dec 17, 2016

Music Department unites to spread holiday cheer

(Story)

Dec 07, 2016

RDN shares their favorite holiday movies and songs

(Story)

Dec 05, 2016

Students transition to music streaming services

(Story)

Nov 16, 2016

Drama Club examines truth for Fall Show

(Story)

Nov 16, 2016

Central reacts to the 2016 Presidential Election

(Story)

Nov 06, 2016

"Gilmore Girls" revival to arrive on Netflix Thanksgiving weekend

(Story)

Oct 28, 2016

Movie favorites for halloweekend

(Story/Media)

Oct 24, 2016

"Hamilton" mania takes over Chicago

(Story/Media)

Oct 14, 2016

Kanye West returns home for Saint Pablo Tour

(Story/Media)

Oct 08, 2016

Freshmen snatch spotlight with freshman play

(Story)

Oct 03, 2016

NAHS goes bananas for Homecoming Art Show

(Story)

Sep 21, 2016

Red Devil Nation hype songs

(Story/Media)

Sep 15, 2016

Arts in Education Week lets student artists shine

(Story)

Sep 12, 2016

Shakespeare's return to Central

(Story)

Aug 30, 2016

Summer 2016 Movies: Hits and Misses

(Story)

Nov 24, 2015

Documenting her journey to happiness

(Story)

Oct 15, 2015