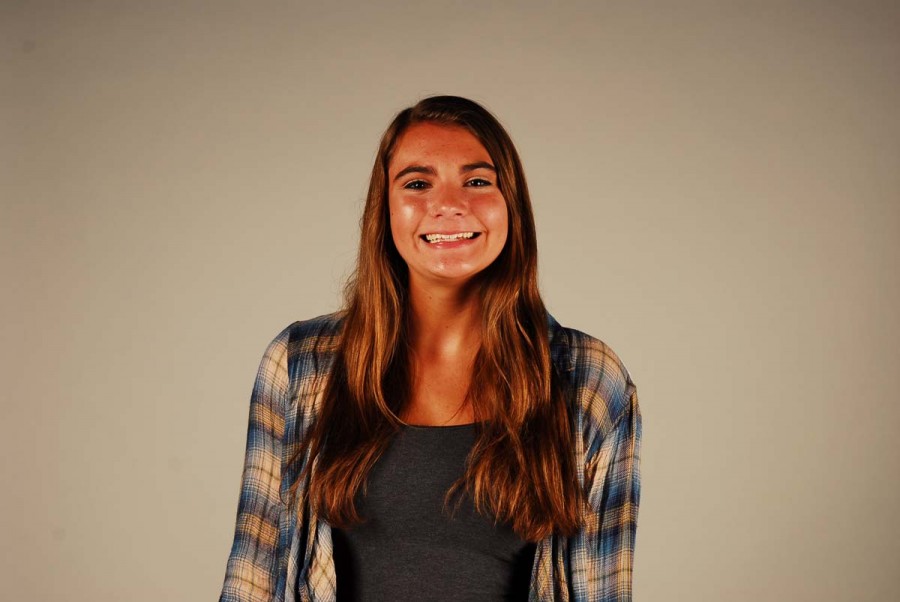 Junior Shannon Ging loves writing for Devils' Advocate, especially if it is about sports. She spends most of her time cheerleading, whether it's for the Devils or coaching younger girls on Falcons. She can also be found tweeting 24/7, eating at Portillo's or McDonald's, and watching Netflix. She's an avid Pittsburgh sports fan, and loves to drive around with her friends, especially while listening to Fall Out Boy.
You can contact Shannon at 
817660@hinsdale86.org
.
Shannon Ging, Writer
May 16, 2017

Starbucks' "Frappy Hour" returns

(Story)

May 11, 2017

Class of 2017 shares their senior quotes

(Story)

Apr 17, 2017

Girls' softball starts strong

(Story)

Apr 03, 2017

Girls' track places fifth at Conference

(Story)

Mar 13, 2017

Boys' lacrosse gears up for season

(Story)

Mar 08, 2017

Boys' gymnastics wins first meet

(Story)

Mar 08, 2017

Girls' water polo starts season

(Story)

Feb 07, 2017

Athletes commit to their colleges on National Signing Day

(Story)

Feb 05, 2017

Girls' basketball honors seniors and pursues postseason

(Story)

Jan 24, 2017

Hockey season comes to a close

(Story)

Jan 20, 2017

Boys' Track trains for the upcoming season

(Story)

Dec 16, 2016

Girls' bowling goes 4-1 in conference

(Story)

Dec 06, 2016

Houseparty app on the rise

(Story)

Nov 16, 2016

Girls' Swim and Dive qualify for state

(Story)

Nov 15, 2016

Physics classes learn through go-karting

(Story/Media)

Nov 04, 2016

Chicago Cubs win World Series

(Story)

Nov 02, 2016

Girls' tennis wins fourth consecutive championship

(Story)

Oct 25, 2016

Hillary vs Donald in The Final Debate

(Story)

Oct 17, 2016

Girls' XC looks for victory at Conference meet

(Story)

Oct 04, 2016

Football sustains perfect record in victory over Glenbard West

(Story)

Sep 26, 2016

Girls' Swimming and Dive defeats rival LT

(Story)

Sep 19, 2016

Homecoming Court strives for neutrality and equality

(Story)

Aug 30, 2016

Football season kicks off at Central

(Story)

Jun 03, 2016

Students and staff make summer plans

(Story)

May 29, 2016

Lollapalooza Essentials

(Story)

May 23, 2016

Girls' Water Polo finishes season at Sectionals

(Story)

May 06, 2016

Boys' Lacrosse rematches rival LT

(Story)

May 06, 2016

Boys' volleyball looks to finish season strong

(Story)

May 03, 2016

Blake Evertsen breaks 33-year-old track record

(Story)

Apr 18, 2016

Double Header: Cubs or Sox?

(Story/Media)

Mar 24, 2016

HC vs. LT Olympics

(Story)

Mar 14, 2016

Boys' Lacrosse Looking for Win at Season Opener

(Story)

Mar 08, 2016

Life of a student athlete

(Story/Media)

Feb 25, 2016

Rugby Team joins Central

(Story)

Feb 19, 2016

Forensics looks for success at State

(Story)

Feb 05, 2016

Girls' basketball dunks on Alzheimer's

(Story/Media)

Jan 26, 2016

New season, new technique for boys' track

(Story)

Jan 25, 2016

Special Olympics celebrates victory at Pack the Place

(Story/Media)

Jan 15, 2016

Girls' bowling starts season strong

(Story/Media)

Jan 11, 2016

The Return of the Red Sea

(Story)

Jan 05, 2016

Lack of space burdens winter athletes

(Story)

Dec 16, 2015

Basketball season brings excitement

(Story/Media)

Dec 14, 2015

Advocate's Holiday Gift Guide

(Story)

Nov 18, 2015

Adventure club takes on the great outdoors

(Story)

Oct 30, 2015

Hinsdale Central Sports Scholarship Feature

(Story)

Oct 19, 2015

Boys' Soccer Coach Recognized at National Level

(Story)

Oct 01, 2015

Athletic Director joins varsity practices

(Story/Media)

Sep 29, 2015

New Sport Spikes in Popularity at Central

(Story)

Sep 18, 2015

Get in the gatorade

(Story)

Sep 15, 2015

Boys' Golf Places at National Tournament Invite

(Story)

Sep 15, 2015

Hinsdale Central defeats DGN in a 43-0 Blowout

(Story)

Jun 03, 2015

Blast from the past

(Story)

Mar 19, 2015

Girls' soccer springs forward in hopes for a state victory

(Story)